FunnelFlux Pro is a performance marketing tracker that is primarily focused on users running paid marketing campaigns, usually via traffic sources like:
Facebook Ads
Google Adwords
Popup/popunder/redirect traffic sources
Native traffic sources like Taboola, Outbrain, RevContent
Push traffic sources

FunnelFlux Pro allows you to...
Add all your various pages as resources
Define your sources of traffic and what data you'll receive and store from them
How you will pass data onward to other pages
Create marketing funnels that stitch together a journey between pages
Control the routing of users between pages, allowing for split-testing and conditional routing (e.g. send users from the US to page X, all other users to page Y)
Track conversions and revenue throughout these journeys
Then analyse all this data, segment by different attributes, and discover where you can optimise campaigns to improve ROI
FunnelFlux Pro is not a replacement for platforms like Google or Facebook Analytics, nor is it a page builder like Leadpages -- you need to create and host your pages separately to our system.
Think of it as the command centre that controls customer journey and centralises all the data you need to optimise your paid advertising campaigns.
That being said, you can use FunnelFlux Pro to track a typical website and the organic traffic coming into it. Our unique technology makes this relatively straightforward since we can track many pages connected in various ways.

How do we differ versus competitors?
Many trackers share similarities. FunnelFlux Pro does some things differently and there are two key unique parts to our technology:
We allow you to track virtually any journey, no matter the complexity or number of steps. Our competitors that also provide control over user routing tend to be very linear, allowing only a few pages in a straight line.
We allow you to visually construct your funnels in our funnel builder, rather than using forms. This gives you a clearer picture of what the tracking system will do with your visitors and makes it easy to build simple or extremely complex funnels.
Our funnel builder looks like this: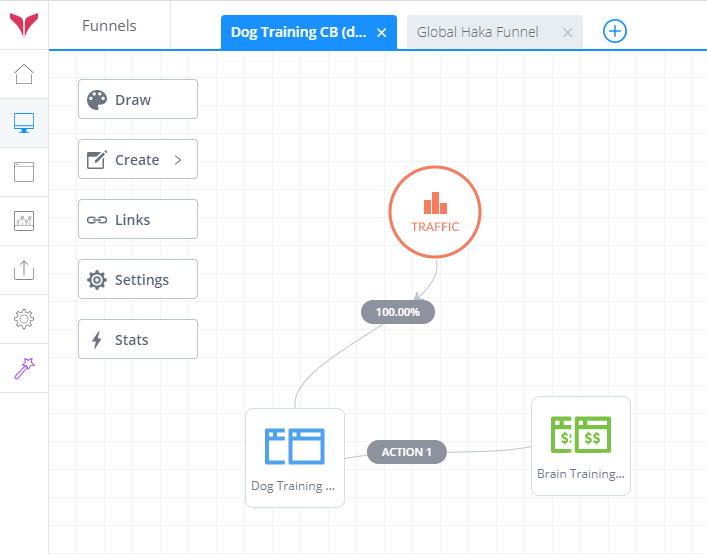 Using any performance marketing tracking platform requires a learning curve -- its not as simple as placing some Google Analytics snippet on all pages and letting the data flow in.
These systems are typically passive listeners -- they just log events on pages and then try to make sense of it in a UI later.
FunnelFlux Pro needs to process visitor data in real-time to make decisions on where to send users, generate unique IDs for tracking, and do all this while not relying on cookies, referrer, and understanding the complex pathways a user could take in your funnel.
But thankfully this is easy for you, we've done the hard work with figuring out such tracking 😄